Origin: My Little Pony: Friendship is Magic
Wiki-Wiki-Wow! *That is the sound of a vinyl being scratched*
Vinyl Scratch

Origin
The My Little Pony: Friendship is Magic fandom
Passive Ability
Dance
Rage Ability
Shuffle
Self-Made Owner
TheGreatJug
Description

Edit
DJ P0n3 or Vinyl Scratch is the name of a unicorn pony who performs as a disc jockey in My Little Pony: Friendship is Magic. She is a white unicorn with a blue/teal mane and tail and wears a pair of purple shades.
VSH Abilities
Edit
Any player that isn't holding down a movement key deals 75% less damage.
Everyone moves as if a random movement key is pushed and held down every few seconds for 13 seconds at 100% 20 at 200%.
Tips as Vinyl Scratch
Edit
Use your rage to get players off hard to reach places. Beware of Scouts with the Sandman as they can still stun you.
Your ability is very effective against players on maps with large hazards such as pits, as players may run into them.
Your passive makes all campers have to move in order to do maximum damage such as snipers, scouts ect.
Tips against Vinyl Scratch
Edit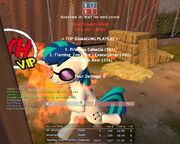 You still have control of jumping and your weapon effects while dancing.
If you think Vinyl will taunt soon, run to an enclosed area to avoid hazards.
Be careful when taunting during her rage, it will inflict a bleed effect on you.
Her rage just makes you strafe in a specific direction; try turning yourself to positions where you will dance your way to her.
Alternatives of Vinyl Scratch
Edit
Vinyl Scratch's current alt is Cuban Pete (The Mask). His base class is a Spy, and he is equal to his equine counterpart.
Some users report Vinyl Scratch's body textures are not showing.